Outlines of Aluminum Sliding Doors Review
If you are planning to renovate or build a new house, it may be worth considering the installation of aluminum sliding doors. Modern aluminium doors are practical solutions that bring the perfect finishing touch to any home. Designed to beautify a property both inside and out, regardless of the dominant type or style. The sliding leaf opens parallel to the fixing element and can therefore be used in a smaller space than a swing door. In addition, the wide glass windows of the aluminum sliding doors offer a magnificent panoramic view, allowing you to enter space and nature almost at your fingertips.
Additionally, aluminum sliding doors are available in a variety of colors and finishes to suit any aesthetic. Dark sliding doors are also trending this year, making them a popular choice for many homeowners. But if you're not sure if these stylish doors are right for you, read on to find out more. In this blog, We will look at the outlines of aluminum sliding doors below.
What is Aluminum Alloy Sliding Door ?
The installation of aluminium door with window refers to a standard door installed on a slide, which can move on a fixed track to ensure smooth operation. They consist of two doors that can be opened by sliding them back and forth. These doors feature a clean, streamlined design, and their larger glass size allows you to see the outside world. They differ from traditional swing doors in that sliding doors do not require a lot of space to open the door. Compared to folding doors, sliding doors can be slightly limited in providing a smaller entrance as only one door leaf can be moved at a time. If you want to know more about its specifications, see our technical specifications for sliding doors. Aluminum sliding doors are popular for their unique properties, let's see what they are.
1. Maximize Space
When considering the purchase of an aluminum sliding door, you can start by considering the space constraints of your home. Aluminum sliding doors are a simple and elegant piece of furniture perfect for maximizing space. Installing sliding aluminum doors is a very flexible process that does not take up too much space. It has a simple push-pull mechanism, so the two zones can be separated or connected at any time, taking into account their use to maximize your space in the house. In terms of design, aluminum sliding doors are often used for bathroom doors and kitchen doors. You can check out our aluminum sliding door gallery and see for yourself !
2. High Durability And Low Maintenance
The materials used to make sliding doors range from traditional wood to glass and aluminum. Be sure to choose the right material for your sliding door, as poor quality materials can cause many problems, such as broken rollers, worn and squeaky tracks, and many lock mechanism failure issues. With that in mind, try investing in a high-quality aluminum sliding door to avoid all that hassle. Aluminum is the material of choice when it comes to choosing a sliding door that will enhance your property. This is because aluminum is more durable and requires less maintenance than other materials like glass and wood. Aluminum sliding doors are also impervious to rust, fading or rotting, making them useful in many natural environments, while providing excellent long-term performance.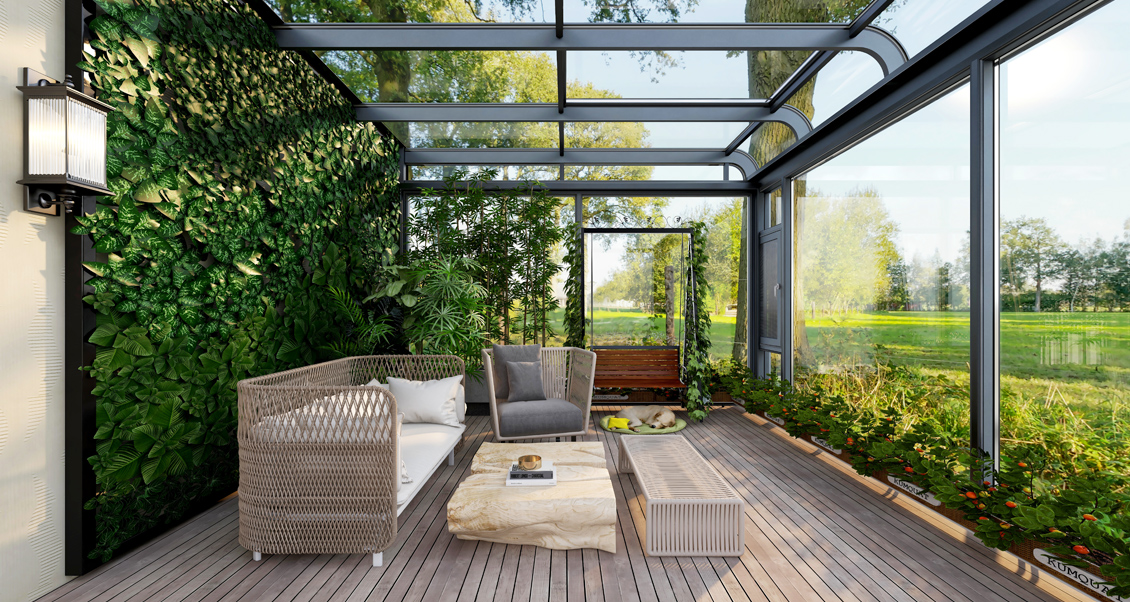 3. Increase Natural Light
Aluminum glass sliding patio doors have many benefits in letting more natural light into a home. These doors are easily installed on your balcony to take advantage of the warmth of the sun and the view of the outside. Installing large panes of glass on your doors will maximize sunlight penetration all year round while creating a completely transparent and bright interior in any living space. That's a major upgrade to your home, isn't it?
4. Enhance Beauty
Aluminum sliding door extensions are equally modern in design in a residential or commercial setting. They are also very stylish and practical space savers. When installing aluminum sliding doors, homeowners can choose from options such as fully floating or floating, folding or hinged entry combinations. The best news is that all of these designs already include a common overhead rail and support system with an option for high panels. With us, you can also choose from 150 colors and wood effects, including oak and mahogany, to customize your sliding door to suit your home's overall aesthetic. Alternatively, owners can change the exterior and interior colors to easily complement their interior and exterior plans.
5. Improve Safety and Durability
Aluminum sliding doors can provide additional security to your property while you are away. For your peace of mind and that of your family, our sliding doors are safety tested and fully PAS 24 compliant. Our aluminum sliding patio doors are some of the safest sliding patio doors on the market today. This is because they feature the latest multi-point locking system to ensure your home is always safe and secure. If you have any further questions about how aluminum sliding doors can improve your property and your overall lifestyle, our team of experts can provide you with the best answers and advice to meet your exact needs. Contact us today or request a free quote, and we'll get back to you as soon as possible.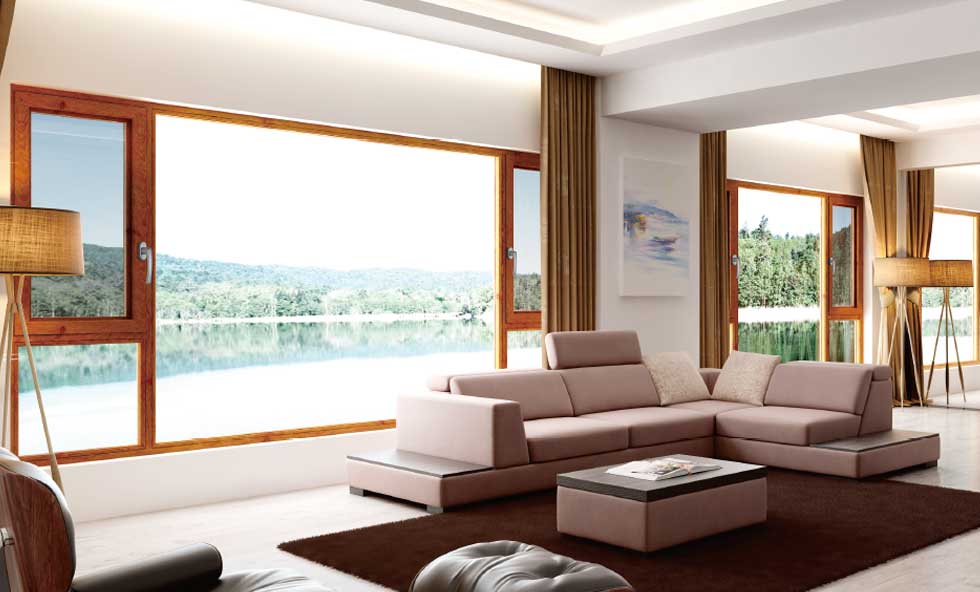 How About The Aluminum Sliding Patio Doors
Of course, you can choose our aluminium sliding patio doors, When you're considering installing sliding patio doors, consider what these products have to offer. You'll find that they're easy to install and have a low cost of maintenance, making them an excellent option for any home. In addition to their energy efficiency, they also offer low maintenance and security, making them a great choice for any home. In other words, keep a good mainteance for them should be paid much care.
Having a aluminum sliding door is a great way to open up your home to your patio and create the illusion of more space in your home. If you are remodeling your home or have recently moved into a new home, you may be considering replacing your patio doors with sliding glass doors. Your deck serves many purposes: aesthetics, energy efficiency and safety. Each patio door should add to the visual appeal of the home and complement the exterior design. In addition, the door also protects against natural and human factors. In addition, it must contain the temperature of your home to prevent cold air from being forced out of the air conditioner.
Is it Matched With Your Home Style ?
Depending on the exterior and interior design of your existing home, you will need to choose a sliding door that matches the exterior. Fortunately, there are many aspects you can customize with your sliding patio door, such as color options, frame width, and style. Each door frame material will be available in different color options. The metal frame is available in a variety of color finishes thanks to powder coating. That said, aluminum doors generally offer a wider variety of colors than steel doors.
Wooden doors have fewer color options because they are made of natural materials. However, wood adds warm tones that are more suited to the traditional style. In addition, wood has a thicker view of the frame than aluminum or steel. In terms of visual appeal, PVC or vinyl sliding doors are not the best choice. This is because they have thicker sightlines and limited color options. The most versatile frame for visual appearance is the fiberglass sliding door. Indeed, they can look like natural wood and are available in a variety of wood grain textures. Additionally, fiberglass doors can have a custom paint job to reflect the design of your home.
What Practical Function Does It Have ?
For sliding glass doors, functionality is important. This means choosing the right materials and features for your needs. For example, many aluminium sliding patio doors offer unique features such as screens, sunscreens and blinds.
Filter Set
Screens are a great way to circulate indoor air without letting pests in. Standard mesh material keeps debris and pests out while allowing air to pass. This means that even with the door open, you can enjoy the cool breeze without worrying about annoying insects crawling around your home. The screen offers the same protective support as the standard mesh, except it allows more airflow and light. This is because the screen is made of a thin, intricately woven court with smaller holes than the grid, providing a better experience for owners.
Noise Reduction Glass
For someone who lives in a high traffic urban area, the last thing you want to hear is a loud honk in the middle of the night. Or maybe you live by the sea, where there is a tendency for bad weather and high winds. In both cases, it is better to choose a type of glass with sound-absorbing properties. Consider choosing a thicker type of glass or using multiple panes to dissipate sound waves. For example, laminated glass is made up of three layers: two panes and an additional layer of PVC. The inner layer helps block and reflect sound back to the glass. In fact, the laminated type of glass can produce 32 decibels of noise reduction.
Best Aluminum Sliding Doors for 2022
The Golden Ratio and The Perfect Match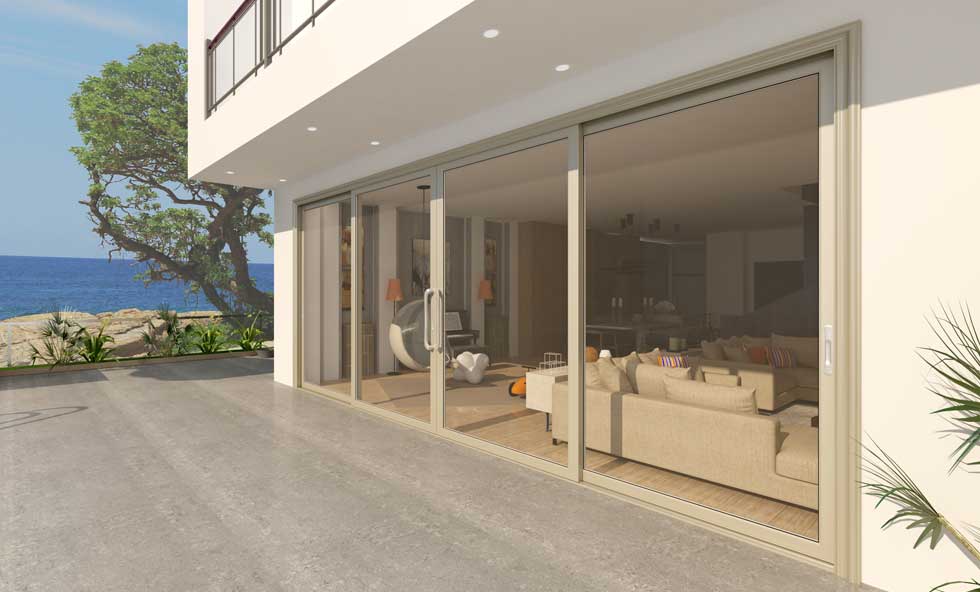 Tenghui aluminum sliding door is one of the most common options to consider. They are cost-effective, durable and will not corrode. Sliding doors are often used when space is limited because revolving doors require room to swing in or out when opened. Golden frames can match the design and style of your home, and tinted glass can also be considered. More customization with the metal internal handle.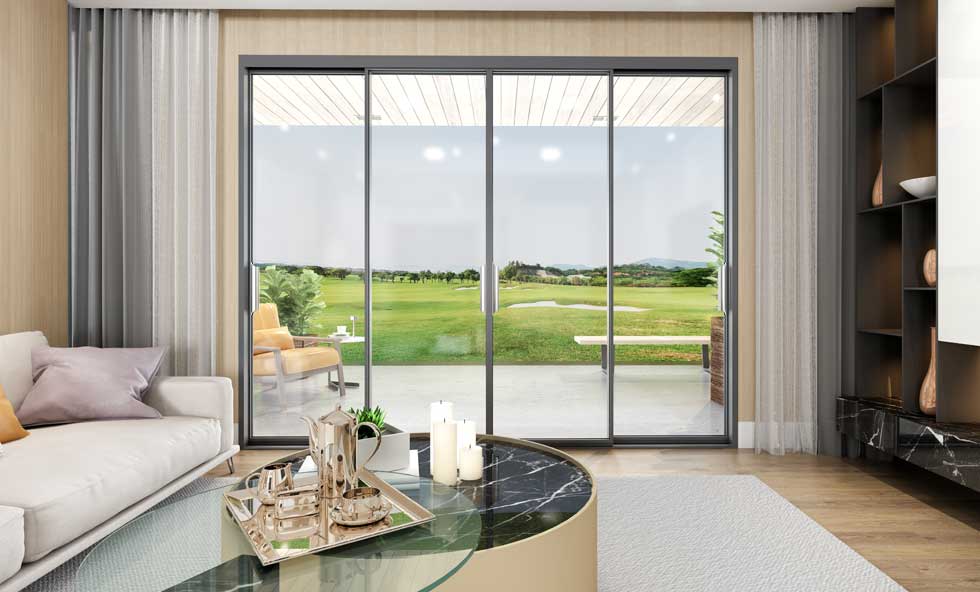 If you're looking to make a statement at home and want to embrace indoor-outdoor living, the Seina Non Thermal Break Series may be just what you're looking for. When off, enjoy your unobstructed views to the outdoors and fill your home with natural light. When it opens, prepare to receive as this door invites people to linger outside.
Tenghui Household aluminium sliding patio doors are a great feature in any home. Not only do they allow circulation and the supply of natural light, but they also extend the living space to the outside. However, the exterior elements of our home will always require a little maintenance and effort if we want them to last. Sliding patio doors are no exception, and common issues such as derailed doors, jammed and stuck tracks, and worn rollers are just a few of the problems that can lead to difficulties. Solving small problems can prevent costly problems. Sticky doors are frustrating and will only get worse if left undetected. We'd like to give you some daily maintenance tips to help your sliding patio door run smoothly.
6 Maintenance Tips For Aluminium Sliding Patio Doors
1. Clean the glass
There's nothing more satisfying than clean, shiny windows. You can easily remove sticky children's fingerprints, sea fog buildup, dust and general dirt with window cleaners and newspaper. By regularly cleaning the glass, you can slow the buildup of debris on the frame and surrounding rails.
2. Wipe the frame
Washing the inner and outer door frames will keep them clean and prevent the weather from damaging the outer frame seals. Dust gently, then a small amount of warm soapy water will suffice. Avoid harsh chemicals as they can damage the door frame finish. For sliding doors with a wooden frame, the wood must be repainted after the original varnish has started to wear off.
3. Clean the track
As frequent access, patio sliding rails are subject to heavy wear and tear from dirty household shoes, children's crumbs and pet hair. But they are also exposed to seasonal temperature extremes and blown debris. We recommend cleaning the tracks and rollers once a month. First, use a vacuum cleaner to remove debris and dust. A warm soapy water solution will help remove dirt. Take the time to clean out the grooves and hard-to-reach spaces with a butter knife. An old toothbrush is a great tool for removing fine dirt in tight spaces.
4. Lubricate the track
Lubricating the bottom track will prevent the door from jamming and becoming difficult to open. Only do this when the track is clean and free of dust. If your track is dirty or you've been having a card door problem for a while, it's a good idea to remove the door from the track so you can effectively clean and lubricate the entire track.
5. Replace worn rollers
For stubborn old doors, you may need to remove the rollers for further investigation. Dirty rollers can be cleaned, lubricated and reinstalled. However, if your door roller is damaged, replacement is your only option. Be sure to align the rollers correctly and adjust the adjustment screws until the movement is smooth.
6. Check door panel alignment
Hard knocks, improper installation and overuse of sliding doors (slamming) can cause misalignment and wobble. Also, sagging foundations or accumulated debris can cause the rollers to misalign. You can fix this by adjusting the roller screws or removing the door and placing it straight up and down.
Factors Affecting the Aluminum Sliding Doors Price
How much you need to pay for an aluminum sliding door depends on many different factors. The following variables can increase or decrease the price of an aluminum sliding door:
Glass size - larger panes will be more expensive than smaller options,
Frame Sizes - Frames come in a variety of standard sizes. It will be more expensive if you need different size frame.
Door color and style - Appearance and visual effects can affect the purchase price of your aluminum sliding door.
Glass type - Double glass packaging is cheaper than triple glass packaging. There may also be other types of glass available, called decorative glass, but the cost will vary.
Added Security - Improved types of glass and types of locking systems will increase the cost of aluminium sliding doors.
CONTACT US


Foshan Tenghui Household Co., Ltd.
We are always providing our customers with reliable products and considerate services.
If you would like to keep touch with us directly, please go to contact us