French Style Aluminium Windows And Doors Sights
Sure, you want your home décor to ooze charm, but how do you get there? Begin by choosing the right doors and windows, of course! Often not given their due, your home's fenestration is a silent champion when it comes to accentuating interiors and ushering in heaps of natural light. And, French windows are pretty much at the forefront of lending luminescence and a unique aesthetic sense to any space.
What Are French Windows ?
The French are known to have brought Italian Renaissance architecture back with them post the Great Wars of Italy in the 16th and 17th century. French windows seem to have been influenced by Italian architecture's emphasis on light and symmetry, where architects combined the need of natural light in a pre-electricity era and the availability of glass to design larger windows, almost the size of a door. Earlier, due to the fragile nature of glass, they were installed in small panes and frames made of wood and iron. Nowadays, with the growing availability of sturdier glass, panes and frames have grown in size. Today, you'll find French windows available in myriad styles and materials. To change the look of your home, you are practically spoilt for choice amongst sliding, louvered (folding), and pivot French windows. While conventionally, the structures were set in frames made of wood and iron, now steel, aluminium, uPVC, and fibreglass are also being used.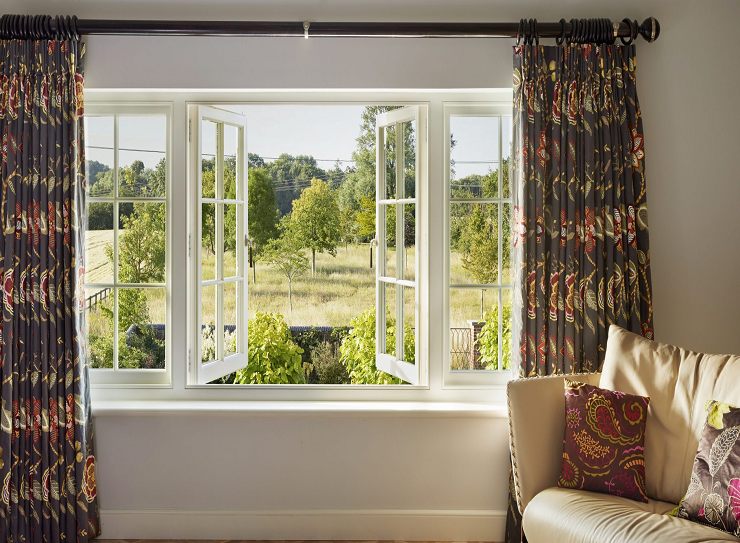 Imagine structures that would result from marrying doors and windows! French windows are full-length hinged double sashes that usually swing inwards or outwards, lending a sense of openness to a room. Thanks to sizeable, sturdy glass panes, French windows work miracles, especially if your home is low on square footage. Furthermore, with modern advancements, these structures don't necessarily have to open inwards and outwards. More and more homeowners these days are opting for sliding French doors and windows as they do not need extra space to operate. Therefore, if you are contemplating fenestration for home improvement or are building a haven from scratch, turn to French windows for exceptional aesthetics and advanced functionality.
What are French windows called in France?
In French, they are called porte-fenetres, which means "doors with windows" or "windows the size of a door". As the translation suggests, some floor-to-ceiling windows can be high enough to fit through, like a door. Just like French doors, they work by using a primary and secondary sash so that both sashes can be opened. However, true floor-to-ceiling windows are much narrower than other doors and tend to have more elegant proportions.While floor-to-ceiling windows are similar to standard casement windows, which are only hinged to the sash on one side, they have no central column or vertical frame. This is a type of flying (or floating) mullioned windows. This means they create a large opening without any structural elements blocking the view from the windows. For this reason, some taller floor-to-ceiling windows allow you to walk through them as a doorway, but they are still classified as windows.
Benefits of French Windows
It is no secret that the high glass-to-frame ratio of French windows makes for a host of benefits. Here is a list of top advantages of installing these structures at your home or office.
Abundant Natural Light
Imagine waking up to the beautiful natural light of floor-to-ceiling windows, stroking your face to keep you awake. Transform your home with the perfect floor-to-ceiling windows that let in light that positively changes the overall mood of the room. In addition, if you are lucky enough to live by the sea, on the edge of a mountain or in a green setting, the floor-to-ceiling windows allow you to enjoy breathtaking panoramas to brighten your day. Have you ever wondered why most luxury hotel rooms use a variation of this classic design? Because no other type of window offers the same feeling of space and light as floor-to-ceiling windows.
Superior Ventilation
Even in sub-tropical countries like India, one does not wish to use air-conditioning all year round. And, during the summer and monsoon months, French windows can open up an entire wall to let fresh breeze gush inside. This feature is especially significant if you live in a city like Mumbai, where you would not want to miss out on the evening sea breeze. No other structure offers the same level of ventilation as a French window. Even during summer evenings, you will find that the airing provided by these structures can quickly bring down the hot temperature inside your home.
Safety and Security
A common misconception about French windows is that they do not offer ample protection from unwarranted intrusion. While these windows may seem vulnerable, they provide a great deal of security. How? Firstly, if you wish to install them on an exterior window, you can fortify them by using toughened glass. Secondly, these structures come with the option of multi-point locking, meaning you can get your window expert to install multiple locks along the frame of a French window to enhance safety. With glass that is near impossible to break and a robust multi-point locking system, French windows are no more or less safe than other types of fenestration.
Easy Access
French windows are secure without compromising on the ease of access to move from one place to another. If your bedroom boasts a spacious balcony or garden view, installing a French window leading into them makes moving in and out highly convenient. Installing French windows is similar to fixing your home or office with more doors, allowing for additional access. This functionality is especially useful when you are hosting a party or a family gathering, as a group of people may find it easier to sashay around even if you have a small apartment in a high-rise building.
Easy to Maintain
French windows require bare minimum care. All you need to do is wipe these structures with a soft damp cloth once or maybe twice a month. If you live on an especially dusty street, drizzle some soapy water on these windows and then rinse them clean with plain water. As for the frames, make sure not to use any abrasive material to wipe them clean and grease the grooves for smooth operability. Since glass collects minimal dust and grime, French windows tend to remain sparkling clean for years on end.
Various Materials To Make French Style Aluminium Windows
If you've been contemplating buying French style aluminium windows, there are some factors you should take into consideration. First, you should find out what type of materials are used in their construction. Traditionally, these windows were made of wood and iron, but these days, you can choose a variety of materials, including Accoya(r) or Unplasticised Polyvinyl Chloride (uPVC). In addition, you should know how much these windows cost.
Traditionally Made From Wood And Iron
Traditional French style aluminium windows are made with wood and iron frames and have a unique look and feel. While French windows are now popular in the United States, they have long been made in France. In fact, some of the oldest windows in France date back to the 17th century. French windows can be distinguished by their large, flat panes and intricate detailing. Before the twentieth century, windows in France were often covered in oiled fabric. This fabric was typically nailed directly to the frame or stretched over a thin timber lattice. As time went by, the technique of covering windows became more sophisticated. Today, many windows are coated with an elastomeric or polyurethane coating.
If you have a metal window, the process to treat it will differ depending on its metal type. For instance, ferrous metals pose different problems than non-ferrous metals. Similarly, wrought iron requires a different treatment than cast iron. Furthermore, the original process used to make the window is also important. For example, pre-l950s steel windows were not galvanised, so corrosion often shows up as rusting on the bottom members and horizontal glazing bars. When you're replacing timber windows, make sure to use the same type of timber as the existing ones to avoid differential movement in the window frame. The cills and mullions are particularly vulnerable to damage, so it's important to choose timber that matches the existing wood.
Windows are vital for a building's appearance. They let light into a building, give out views, and give a house a distinctive look. As a result, they can dramatically change the look of a building. Traditional windows reflect the social, economic, and artistic developments of a period. They also reflect the status of a building and its individual rooms. Throughout history, taxation methods, building legislation, and advances in craft have shaped the appearance of traditional windows.
Traditionally Made From Accoya(r)
The French style of aluminium windows is traditionally made from Accoya, a wood-composite material. Today, the new generation of aluminium windows is designed to meet the needs of various sectors, from residential to commercial and non-residential buildings. These windows are versatile, offering excellent comfort and energy savings. The Accoya wood used to make French style aluminium windows is both fast-growing and environmentally friendly. This product is FSC and regionally certified, and is capable of delivering superior thermal insulation. Furthermore, it offers a long-term service life of up to 60 years. The wood is also easy to machine, sand, and paint.
Accoya is resistant to temperature and humidity fluctuations. This material's thermal conductivity is certified under EN 12664 and ISO 10456:2008 procedures. Download the Accoya thermal conductivity report to learn more about its properties. Accoya is a highly durable material that is more stable and lasts longer than most other woods. Accoya is resistant to insect and rot, and has a high strength-to-weight ratio. It also retains its natural beauty, so you can choose from a variety of colour combinations. Slim frame aluminium french doors frames are naturally beautiful and require minimal maintenance. They can last a lifetime with minimal upkeep. Additionally, they are highly insulating, which means lower energy bills. Accoya windows are also healthier for you and the environment.
Made From Unplasticised Polyvinyl Chloride (uPVC)
UPVC (Unplasticised Polyvinyl Chloride) is a low-maintenance building material. It is a common choice for window frames and sills, as well as siding and weatherboarding. It is also widely used in plumbing, drainage, and waste pipes. This material is sometimes referred to as Roofline. Polyvinyl chloride is a common plastic material that has both a flexible and rigid structure. Unplasticized PVC is often used in the construction of inflatable paddle boards and other inflatable products. It is a renewable resource that requires fewer unrenewable resources than other thermoplastic materials.
Unplasticized PVC is suitable for a number of applications, including plumbing and electrical wire insulation. It is also inexpensive and readily available. It is durable and resistant to impact deformation, making it a cost-effective and energy-efficient material for many applications. Unlike PVC, uPVC does not contain BPA or phthalates, and it is not biodegradable. Moreover, it is recyclable and can be reshaped into new products at high temperatures. It is also often used for dental retainers.
Besides being durable, uPVC is also heat-resistant, noiseproof, and odor-proof. It is also made of special uPVC compounds that make it suitable for the environment. It can even withstand tropical climates. As a result, uPVC windows are cost-effective and eco-friendly. Unplasticised polyvinyl chloride is a thermoplastic polymer. It is white in colour, but without plasticizers, it is very brittle. It was first synthesized in 1872 and became commercially viable in the 1920s. It is now used in construction, signs, and healthcare applications, as well as in the manufacturing of fiber for clothing.
PVC products can be easily handled, lightweight, and inexpensive. In addition, they exhibit low chemical reactivity and can last up to 100 years. It is also easy to recycle. Furthermore, PVC pipes can be recycled and are 100% recyclable. Polyvinyl chloride (PVC) is a thermoplastic polymer that has become a universal polymer. It is composed of over 50% chlorine by weight and can be produced in rigid or flexible form.
Cost of French Style Aluminium Windows And Doors
Whether you are replacing your current windows or designing a new one, there are several different options to consider. For instance, you may choose a customized design that fits the style of your home perfectly. The cost of such a custom design may vary according to the window size and style. Also, it will depend on the material used to create the window. French windows come in a variety of different prices, and are often made of several different materials. For example, timber windows cost more, but they give your home a unique look. Meanwhile, aluminium windows are sleek and modern and cost a lot less. In addition to their sleek appearance, aluminum windows are strong and require little maintenance. In addition, they are also easier to install, which reduces the cost.
THW French windows are made of various materials. Some are made of wood, while others are made of plastic. However, the most common type is made from an aluminum profile, due to its high strength and its ability to be insulated. This is a major advantage when it comes to the design of French windows, as the insulated version provides more thermal and sound insulation. This type of window also features a thermal break technology, making it a cozy alternative to other types of windows.
CONTACT US


Foshan Tenghui Household Co., Ltd.
We are always providing our customers with reliable products and considerate services.
If you would like to keep touch with us directly, please go to contact us